Gone are the days when a computer or PC was needed to root Android phones. Without a PC, it used to be that you had no chance to jailbreak an Android device. However, with the evolution of technology and needs, it is now more than possible to root an Android device without a computer, in a few minutes with no hassles. All you need to do is install a root app on your PC that reduces the time and effort by more than half. With just one click, you can now easily carry out an Android root on your phone.
Is this the first time you will be carrying out the root for Android without a PC or is it the first time when you will root any Android device? No matter what your expertise in rooting is, this detailed article will guide you with all the information required to root your device. Let's check how to root Android without a PC and all the things that go with the process.
What does Rooting Android Device mean?
In the simplest terms "rooting an Android device means jailbreaking the device to make modifications to it that would not be possible otherwise". When you root an Android phone, you unlock special permissions that give you the ability to carry out a variety of tasks that include improving your phone's performance, installing custom ROM to it, enhancing its battery life, disabling the notification bar, and carry out many such unimaginable modifications that are not allowed or impossible on an unrooted Android device.
There are many pros and cons associated with carrying out an Android root as well. We highly recommend that you take a look at the advantages and disadvantages before you root your device.
What are the Advantages of Rooting Android?
The reason why most tech junkies and geeks prefer to root their Android devices is that this process comes with loads of advantages. Not only does rooting let you make crazy firmware based modifications, but also modifications that are hardware-based. Let's check out some of the pros of Android root.
Customized ROM: One of the reasons that people commonly root Android devices is to customize their ROM. A custom ROM refers to changing the Android firmware from what is currently installed. New Android updates and versions are rolled out constantly by Google. However, updates for all the phones either take time in rolling out or do not come at all for certain devices. For those who like to have the latest Android versions or any version installed on their phones, custom ROM is the only option.
Increased Phone Performance: Rooting an Android device gives you the freedom to overclock its processor and change different variables to get the peak performance out of the processor, hence increasing the performance. This can be used to run graphic-intensive games and high-end apps on phones quite easily and without lag. Apart from this, increasing your phone's performance has various other uses as well.
Increased Battery Backup: Many Android users root their phones in order to increase their battery performance. Tweaking system settings can substantially increase your phone's battery performance. This is achieved by manually restricting background app performances along with other functions.
Install Custom Apps: Custom apps are like super apps that give your Android device super abilities which you would not be able to carry out on unrooted phones. After performing an Android root, you will be able to install such apps on your phone to enhance performance, battery life, ad blocking, and more.
What are the Disadvantages of Rooting Android?
Although the rooting process promises a lot of advantages for your phone, it comes with a fair share of disadvantages too. Anyone rooting their Android devices should and must be mindful of the disadvantages that come with the process. Let us begin with the most commonly known disadvantages.
Rooting causes Warranty Void: It is a very well known fact that if you root an Android device, its warranty will no longer be valid or entertained by official service centers. Rooting not only voids software-related issues, but also hardware-related issues that may have been caused by a different issue altogether. It is a very common practice to root an Android device only after the warranty of the device has expired. Rooting a brand new phone is a strict no-no unless you know exactly what you are doing and do not care about the phone's warranty.
Your device may go dead: Rooting also poses the threat of causing irreversible damage to your phone, especially its hardware. During many known cases, devices have been reported to go dead and never function again. Unless you are comfortable of the fact that you may not be able to use your Android phone again, do not root it with or without a PC.
Rooting Poses Security Threat: Rooting your phone makes your phone vulnerable to online threats from hackers and phishers. Using a rooted phone to make monetary transactions and storing personal information may expose this sort of data to a third party, which leaves you open to financial losses. It is always a good idea not to make bank transactions on a rooted Android device.
Risk of Virus and Malware Ruining your Device: Some of the super apps, or some of the sources providing these super apps for Android installation are loaded with virus or malware. Once these viruses or malware get into your Android device, it's not only difficult to track and remove them, it may even cause some serious damage to your device's hardware or firmware.
No More Android Updates: Although you are free to upgrade your Android device to any released Android version of your choice after it has been rooted, you will no longer be able to update your phone via manufacturer pushed updates. These updates are known as OTA (on the air) updates which are provided by phone brands and are specific to your phone's model and make. However, these updates are easy to install as they are downloaded and installed on the phone at a time and do not require you to follow unnecessary steps. Updating the phone's firmware manually can be a daunting task and will require you to download and install the updates in two separate processes, and you will have to keep an eye on them as they happen.
No Access to Certain apps: Due to security issues, you will no longer be able to use certain Android apps on your rooted device. These apps include some of the apps developed by Google and other developers. However, there are methods you can use to cloak the device that has been rooted and some of these apps may run perfectly.
While we agree that there are many disadvantages of rooting an Android device, we would argue the advantages outnumber the cons. If you are sure of what you are doing, carefully carry out every procedure, and safely use the device, you will most probably be out of any sort of threat.
Steps to take Before you Root Android
People generally use a secondary or old phone to root Android. However, some also go ahead and do this with new devices. No matter which phone you are about to root, there are certain precautionary measures to follow before rooting any android device.
Backup Everything: The very first step before performing an Android root is to back up every piece of data you have stored on the device. Rooting an Android device will erase everything stored on your phone, including documents, media files, installation files, and so on. Once you root your device, the data will be irrecoverable, so be sure to back up everything you will want later.
Fully Charge your Phone: The process of rooting Android is a long one and uses resources, so make sure to fully charge your phone before performing the operation.
Enable USB Debugging: The next step you need to follow is to carry out the process of enabling USB Debugging.
Unlock Bootloader: Without unlocking Bootloader, you will not be able to perform Android root. Some models let you easily unlock Bootloader, but others are not so simple. Different devices use different methods to unlock Bootloader, performing a Google search with your device's model and make before unlocking Bootloader can be really helpful.
Keep Your Phone Model Handy: Always keep the Android device's brand name, model name, and make handy as you may need the information during the process.
Benefits when you Root Android Phone without PC
You already know the benefits of rooting your Android device, but what are the advantages you get when you root Android without a computer? Let us find out.
You can carry out all aspects of the processes yourself. You do not need to be an Android ninja in order to root your device.
No need for computer involvement. When you root an Android device using the methods below, no computer involvement is required. All the steps are carried out exclusively on your phone.
Almost all of the root apps available carry out one-click root.
A root app is always risk-free, hence you can root your phone without any worry.
When you root Android without PC, there are fewer chances of your device going completely dead or turning into a brick.
You can root a device with almost any version of Android with this method.
The overall process is swifter and faster than the conventional method that involves using a PC.
Now that we know all the ins and outs of rooting an Android device without a PC, let's check out the apps that you will need and how to use them to root an Android phone.
How to Root Android Phone without PC using Root APK
One of the most common and preferred ways to perform root on Android is by using an Android app developed specifically for this purpose. Although there are many such Android apps available out there to help you out, only a handful can be trusted to carry out the rooting process.  Here are some of the Apps that you can use for one-click root.
Framaroot
Framaroot is one of the most famous names when it comes to rooting almost any model or make of Android devices. It is a universal rooting tool for Android and carries out the process in just one single click. Tested successfully on hundreds of Android models, it is a trusted app with the most success rate. Based on its reviews, this app is most likely to root your Android successfully.
The whole time taken by this app to root a device is much less than other processes and you will be done within 5 to 10 minutes.  Framaroot also comes with the option to unroot an Android device in case your needs or wishes change down the line.
In order to use the app, you will first need to download the app's APK file from its website as it is not available on Google Play Store. You can get the app here. Once you download the app, you will need to find the downloaded APK with the help of a File Manager.
After you locate the APK file, click run to begin the installation. A prompt will ask you if you want to install the app. Click on Install to proceed with the installation.
When the app is successfully installed, go ahead and run the Framaroot app from the menu.
After running the app, you will see a dropdown at the top with the title "Select an action to execute after root". Select the Install SuperSU from the dropdown.
In the next step, you will have to select a Lord of the Rings character based on your device compatibility with the exploit. Click here to view your device's exploit compatibility with the LOTR character. If you have selected the wrong character, a Failed message will pop up, so make sure to select the correct one from the list.
After selecting the right character, you will get a Success message in the Exploit result. This shows that your device has been successfully rooted. Once this is done, you will need to reboot your Android device.
That's it! You have now successfully rooted your Android device using the Framaroot app. Framaroot can root any Android device, so it is highly recommended to use this app for the first time.
Universal Androot
A classic app to root Android devices, Universal Androot is an old name when talking about rooting. If you want to root your device without a PC and the above app did not work for you, give this app a try. This app is not so popular but works like a charm for almost all older Android devices. This app swiftly performs the rooting process in seconds.
This again is one of those apps that lets you unroot Android devices.
In order to install it on your phone, you will have to download it from here. After downloading it, search for it on your phone using a File Manager. Once found, run its APK to initiate the app installation. When you get the installation prompt, tap on the Install option.
Here again, on the interface of this rooting app, you will get a dropdown menu. From the choices, you will have to select the Install SuperSU option.
In the next option, you will have to select the Android firmware version that you would like to be installed on your Android device. Android Firmware refers to the Android OS version that you would like installed on your phone.
Here, you also get an option to root your Android temporarily. Uncheck it if you would want to keep the root enabled for as long as you want. Selecting the temporary root option will unroot your device after a restart.
After making all your choices, simply select the Root option on the app's interface to begin the rooting process on your device.
When the process is complete, you will get a notification to show that your device has been rooted successfully. Once again, after the root is successful, go ahead and restart your device to complete the root process.
Vroot
Developed by a Chinese team, Vroot is another leading app that lets you root Android without a PC. In this section, we will look at how to root Android using Vroot.
Compatible with most Chinese Android phones, Vroot can also be used to root other Android phones if none of the above apps are working for you.  You can download the rooting app's APK here on the Vroot website. Just for your information, you will also find the software on the website which can be used to root Android by using a PC.
On the above website, you will find the latest version of the APK. Download the APK on your Android device and run the installation once you locate the file using a File Manager app.
Once the installation is complete, launch the app on your phone.
You will get the option to root your device on the interface. Click on the Root button to begin the process.
If there is any delay in the rooting process, the app will boot your device in fast mode in order to complete the root.
Once the root is complete, you will get a pop-up notification on the screen after which you will have to manually restart your device. After the manual restart, your device will be successfully rooted.
Note: Vroot also installs a couple of third-party apps on your device which you can, of course, uninstall if you do not find them useful on your device.
Z4Root
In this section, we will get to know how to root Android phone without a PC using an app named Z4Root. Z4Root is another well known Android app as the game that has been in use for quite a while to root any Android device without a computer. Z4Root is a lightweight app that is absolutely free to use. Its super simple interface makes it really easy for any user to root their Android. It is a one-click root app for Android which does not takes much time to complete the process. Another good thing about this app is that it can be used not only to root but also to unroot an Android device.
In order to root any Android phone, follow the steps given below.
Download the Z4Root app on your phone from here on your phone. With the help of File Manager, find the APK file of the app on your device and begin the installation. Launch Z4Root after the installation is complete.
The super-simple interface of Z4Root lets you carry out the task easily. Simply click the Root option to begin the process of rooting your Android phone.
After the root process without PC is complete, a pop-up message will notify you to confirm it is completed. After that, go ahead and restart your Android device. Doing so will successfully finish the Android rooting process without using a PC.
If you wish to re-root or unroot your Android phone, this app is likely your best option.
How to Check Your Phone is Rooted Successfully
Once you have run all the necessary steps required to root your Android device, how do you find out if the root was successful or not? What if it was an unsuccessful attempt?
You need not worry. You will find an app of Google Play Store named Root Checker. You can get this app here.
It is a very useful app that can not only be used to see if your root was successful but for various other purposes as well.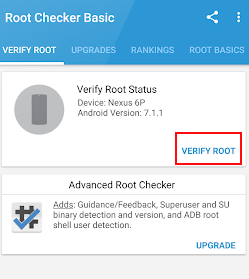 Begin by installing the app on your Android device and running a root check. Click on the Verify Root option to begin the check. The results show whether the proper root access is configured on your device and if is working.
Along with the root info, you also learn about the root basics and installation, along with global root statistics and news.
Recommended: