Hotmail is an online email service. It is one of the first webmail services acquired by Microsoft. When someone sends you some unwanted emails, they are sent into your junk or spam mail sections. It keeps your primary Inbox clean and clutter-free. Now, if you want to check your Hotmail junk mail on your Android device, you can go through this article. This article shows you multiple ways to know how to check Hotmail junk mail on Android phones. So, let's get started.
Before moving further, you might want to read: How to Know if Someone Blocked you on Gmail?
Method 1: Check Hotmail Junk Mail in Default Email App
In this method, I will be showing you to check your Hotmail Junk Mail on Android using the default email app. The very first step is to set up your Hotmail account in the default "Email" app on your Android device. The steps to follow are mentioned below:
Launch your default email app on your Android phone. For example, most of the Android phones have a default mailing app called "Email". Use this app to check Junk mail on Android.
In the email app, select Outlook.com email provider and then choose Hotmail.com email service from the "Select Services" menu.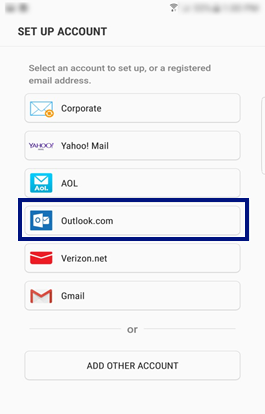 Now, log in to your Hotmail account by entering your account name and then your password.
You will then be asked to sync and choose multiple other settings for your account to configuring as per your requirement.
When you are done setting up your account in the Email app, go to the added account.
From the main menu, go to the Spam folder to check Hotmail junk mail on Android.
Method 2: Check Hotmail Junk Mail in Outlook app on Android
Since Hotmail is a part of Outlook now, you can also check junk mail with the Outlook app on your Android mobile phones. Check out the steps below:
Install the Microsoft Outlook app for Android devices from Play Store. Here is the exact link: Microsoft Outlook Android App
Open the Outlook app on your device, then select the "Add Account" option and choose Outlook account type.
Enter your email ID and password to add the account to your Outlook app. You can also set up various security and other instructions to configure your account.
After logging into your Hotmail account, you will view an Account menu at the top left panel of your Outlook app. You can switch to your Hotmail account from this Account menu.
In the left section, you will find various folders and menu options, including Inbox, Sent, Archive, Draft, etc. One of the folders is named the "Junk" folder. You can check all your junk mails in this folder.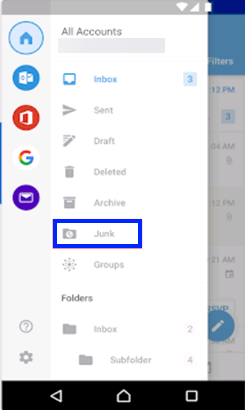 Method 2: View Hotmail Junk Mail in Gmail app on Android
You can also use your Gmail app to check junk mail on Android. Gmail is a widely used email service, and undoubtedly, one of the most familiar email apps on Android and other platforms. If you are an ardent user or the Gmail app, you will find this method more convenient to check Hotmail junk mail on your Android phone. Let us check out the steps:
Open the Gmail app on your phone and tap on the Add Account option. For those who don't have the Gmail app installed on your Android, you can download and install from here: Gmail
Select Outlook, Hotmail, and Live options from the available email services.
Add your Hotmail account by entering your email ID and password.
Configure few sync and settings options and then grant different permissions related to your Hotmail account.
It may then take a few seconds or minutes to synchronize your Hotmail emails and other data in the Gmail app.
Open your Hotmail account from the added accounts accessible from the top right section.
From the left section, you will view different email folders, e.g., Primary, Social, Promotions, Starred, Sent, etc. Scroll a bit down, and you will also find a Spam folder. You can find all your Hotmail junk mails in this folder.
Steps to Change Spam Filter in Hotmail:
Hotmail provides you the freedom to modify spam filters according to your requirements. You can make your own choices about what you want to send to your junk mails to create your account and Inbox clutter-free. You can change the spam filter in Hotmail by following these steps:
Log in your Hotmail account and then choose the Options present in the Inbox section.
Select More Options.
Scroll down to the Preventing Junk Email section and then select the Filters and Reporting option.
Choose the Executive or Standard option from the type of Junk Email filter that you want to select.
Go to the Unknown Senders heading and in the Block Content segment. Here, you can choose to block or show attachments. If you stop attachments, then links, images, and other attachments sent by the people that are not on your Safe Senders list will not reach you.
Save all changes to Spam Filters by tapping on the Save button.
What's the Duration of Hotmail Junk Mail?
Junk mails on Hotmail are automatically deleted from the Junk or Spam folder after ten days. You can access junk mail for ten days, and after that, the junk email is automatically deleted by Hotmail servers.
Is Hotmail Junk Deleted Automatically?
Yes. As mentioned above, your Hotmail junk mails get erased after ten days.
How to Use Safe Senders List
To make sure you receive messages from specific senders and contacts in your Inbox, add them to your Safe Senders list.
In case you want to add a mailing list in the Safe Senders list, it will not function. The reason behind it is that the mailing list is rather sent as a distribution form that advances mail to you.
Analyze and examine thoroughly to understand which emails you allow to go to the Safe Senders list.
Conclusion
You must have known by now how to check Hotmail junk mail on Android. You can use any of the ways that are suitable and convenient for you. You also go to know the steps to change the spam filter in Hotmail.
Recommended: