Instagram is without a doubt one of the most famous social media platforms used by people all over the world. But just like other apps, it too is prone to crashing. Turns out, thousands of users face this issue every once in a while and look for a solution. Whether you use an Android or iOS mobile device, you may find yourself stuck in a situation where Instagram keeps crashing on your mobile phone or tablet.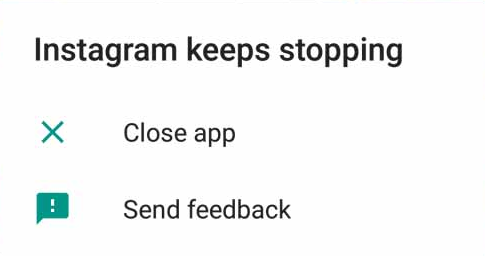 There are several ways to help you fix the Instagram app crashing issue, which may just require you to carry out a simple reboot or do a phone reset. It all depends on the gravity of the situation. In order to find an Instagram crash fix, you first need to know what are the reasons that may cause this issue to come up.
Few Reasons That May Cause Instagram to Crash
There are several reasons that may lead to Instagram app crashing. A couple of the main reasons could be either an outdated version of the Instagram app, or too many apps running on your mobile device in the background.
Some other apps may also hinder Instagram from working properly and leadin it to crash. At times, some issues with the mobile device may also be the reason behind "Instagram Keeps Crashing" error.
How to Fix Instagram Crashing Issue?
Fixing the issue of Instagram app crashing on your mobile device should not be a big deal. Whether you are facing the issue of Instagram Crashing on Android or Instagram Crashing on iPhone, the methods to fix them are going to be almost the same. In the following sections, we are going to check out some of the methods that will help you quickly solve the problem you are facing with Instagram app.
If you haven't tried any of the methods that are mentioned below, begin with trying out the first method and proceed so on. If you have already tried any of these methods, you can simply skip them.
Restart Your Device
Usually referred as one of the best methods to fix any issues related to apps, restarting your mobile device tends to fix this issue usually. Whether you are using an Android or iOS mobile device, the first thing you should do is commence a reboot. Once the reboot of your device is complete, try to start the Instagram app again on it.
If you are still getting the Instagram Keeps Crashing error, move on to the next step.
Update Instagram App
One of the common reasons why Instagram app or any other app on mobile phones may crash is because the app version on your phone is outdated. It is not a very uncommon situation among mobile users for an app to be outdated on their devices.
To make sure that the Instagram app on your phone is up to date with the latest version, you will need to open the App Store on your phone or tablet.
If you are using an Android device, open Play Store, or if you are an Apple device user, open the App Store on it. Once you are there, search for Instagram and open the app's page. If the app version on your phone is outdated, you will get the option to update the app. Click on the "Update" option and once the update is complete, open the Instagram app on your device and see if you are still facing the issue.
In case the Instagram is up to date, or updating the app did not fix the issue, try out the next step.
Re-Install Instagram App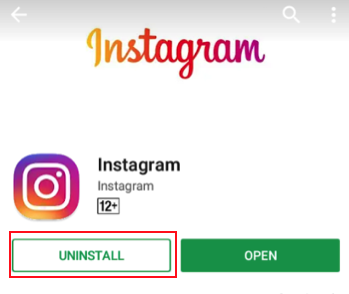 Here's another thing to try which will most probably solve the issue of Instagram crashing on your phone or tablet. Go to Play Store (Android users) or App Store (Apple users) and open the Instagram page. There, you will get an Uninstall option. Click on this option to uninstall Instagram from your device completely. Doing so will not only delete the app from your phone, but will also clear its data.
Now, go ahead and reinstall the Instagram app on your device from Play Store or App Store. Once the Instagram app is installed successfully on your device, try to open and run Instagram on it.
This will most probably fix the issue and you will be able to use Instagram successfully again.
Clear Instagram Cache
Here is another one of the most common methods that works as an Instagram crash fix. In this method, you will be clearing out the Instagram app's cache on your mobile device. Each app on your device has caches where data related to the apps is stored. Clearing the cache data has been observed as one of the most successful methods to fix app crashes.
Note: This method only works for Android phones.
Clear Instagram Cache on Android: In order to clear the cache of Instagram on an Android device, go to Settings > Apps & notifications > See all apps > Instagram > Storage. Here, you will get two options: Clear Storage & Clear Cache. Click on both to perform a memory cleanup.
If this method did not work too, try the last one.
Reset Phone
Performing a Phone Reset is the ultimate method which you can try to fix Instagram Keeps Crashing issue.
Note that going for a reset means losing all the media and app data stored on your phone. So, if you have to do a reset, performing a phone backup is highly recommended.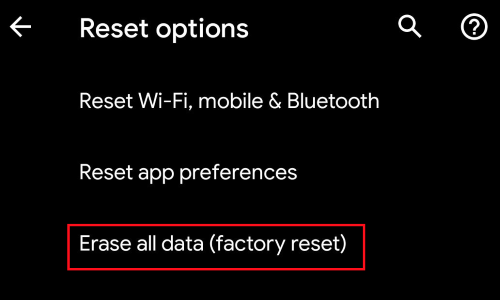 Resetting Android devices: Go to Settings > System > Reset > Erase all data (factory reset) > Delete all data
Resetting iOS Devices: Settings > System > Reset Options > Erase all content and settings > Erase iPhone
Once the phone is reset, install Instagram on your device and run it successfully.