Hinglish is a mix of Hindi and English languages, most commonly used by Hindi language speakers. People in the Indian subcontinent mostly use a blend of both the languages while communicating through text. If you are also used to writing in Hinglish language and are not that fluent in writing Hindi sentences but need to type in Hindi, you will require a Hinglish keyboard or a Hinglish to Hindi converter. In that case, this article is undoubtedly going to be helpful for you. In this article, I will share two Hinglish keyboards or Hinglish to Hindi converters for PC, which are designed to convert your Hinglish text to Hindi through an English keyboard.
Let us see what are those software or apps that enable you to convert Hinglish to the Hindi language on your PC.
Hinglish to Hindi is a Hinglish Keyboard app for Windows 10 that you can easily find on Microsoft Store. Install this app, and then you will be able to convert Hinglish to Hindi. It is specially designed to translate Hinglish words, sentences, and phrases to Hindi in realtime through an English keyboard. As you type, it translates.
You can use the translated text wherever you want. For example, go on Twitter or Facebook or any other social network and copy and paste the translated Hindi text, send the Hinglish to Hindi translation via Email, send on Gmail Hangouts, etc. In this way, it makes Hindi typing very easy for folks who mostly write or communicate in Hinglish.
How to convert Hinglish to Hindi in this free app for Windows 10 PC:
The usage of this Windows 10 app is straightforward. It is also immaculate and intuitive as far as its GUI is concerned. You can enter your Hinglish text in the respective field on its interface, and its Hindi language translation will appear below it in realtime. It also lets you copy and paste Hinglish text from the clipboard and quickly get its Hindi translation.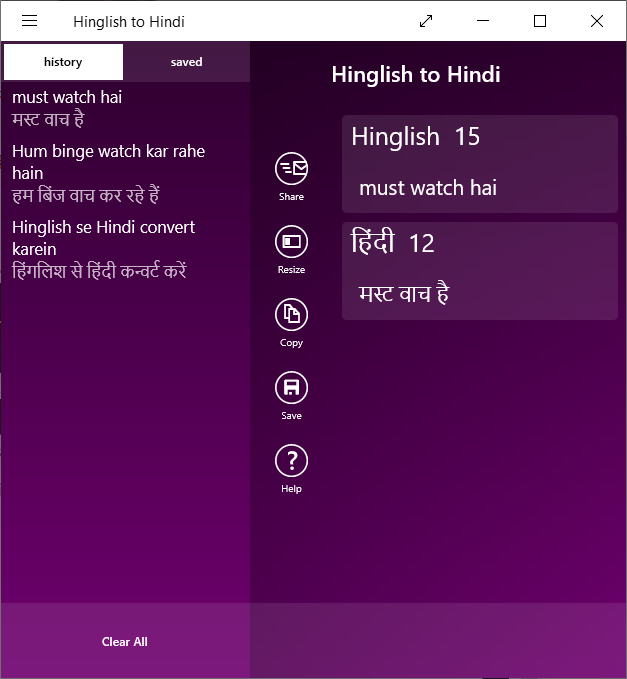 Key features of Hinglish Keyboard for PC:
It offers some options to perform a few actions over translated Hinglish text. Here they are:
Copy: It allows you to copy translated phrases and paste in a messaging app, notepad, social networking site, or wherever you want.
Save: You can save your frequently used Hinglish to Hindi phrases or words to quickly use them whenever required. It provides a Saved list to access all saved Hinglish to Hindi translations.
Share: It provides a share feature which you can use to share Hinglish to Hindi translation on other apps such as Mail, OneNote, Evernote, Twitter, Skype, Microsoft Messaging, etc.
History: Entire Hinglish to Hindi language translations are available in its History section. You can clear the whole history list whenever needed.
Hinglish Writer (Software for Windows, Linux, and Mac)
It is a free and open-source Hinglish writer software for Windows, Mac, and Linux PCs. This Hinglish to Hindi converter runs on web browsers with HTML and Javascript. It is very portable, easy to use, and you can translate some introductory Hinglish text to the Hindi language through it.
How to convert Hinglish to Hindi using this free Hinglish Keyboard for PC:
You can download this software for any supporting operating systems, including Windows, Mac, and Linux. After downloading the software, you will be required to extract the ZIP folder. In that folder, you will find an HTML file with a "Hinglish" name. You need to open this HTML file in a web browser, and then you can start converting Hinglish to Hindi. Type Hinglish in the given box, and its Hindi translation will appear above.
You can copy Hindi text to paste over other social networking platforms, Emails, messengers, or any other app. Also, backspace and space functions are available in it.
It also offers a character chart for your reference. You can open this chart and find out which Hinglish characters translated to which Hindi characters. Based on the character chart, you can enter your Hinglish text to get accurate its Hindi translation.
Closing Words
So, these are the two Hinglish keyboard software that I found worth mentioning. You can convert Hinglish to Hindi using these keyboards and share the Hindi translations on various other platforms using this software. Both the Hinglish to Hindi converters are good, but in my opinion, the Hinglish to Hindi app for Windows PC is better. The Hindi translation of this software is more accurate, and it also offers multiple handy options to save, copy, and share Hindi translations easily.