It can be a challenge to do the same repetitive tasks over and over again. Some people already have a hard time dealing with their everyday routine, what if they have to do things over multiple times? Fortunately, there is now a wide range of applications and programs available to help us complete our projects and tasks with little or no effort, saving us time and energy every day. A prime example is the Macro Recorder.
As you can probably guess from the name, this is designed to record. A macro tool is a piece of software that records your actions while working on a specific system or platform such as Windows. It can record everything, from mouse clicks and strokes on the keyboard (called keystrokes) to your scrolling pattern and more.
But what's the purpose of this: how does it help you become more efficient? After recording your actions, a macro reader lets you automate those repetitive tasks. Such tasks may include data entry, copy-pasting text or files, similar clicks, form submission, and so on.
Advanced macro readers can even perform complicated tasks, such as image search, system maintenance, or data-scrapping from sites.  
Another thing about these recording tools is that some are built-in and specific for Windows or Mac, while others are standalone. In al cases, they're quite useful.
Now, that you know what they are and how they can make your life easier, let's discuss which macro reader software is best for you.
9 Best Macro Reader Tools
Here's our pick of the best macro readers for your Windows or Mac PC or mobile device, that will minimize your workload and save large amounts of time.
1. Pulvero's Macro Creator
If you're looking for a powerful macro recording tool for automating repetitive tasks, you can try high-end automation software known as Pulvero's Macro Creator. Those using Windows you can try this full-featured automation tool. Do you know what makes it the best macro recorder? It's absolutely free!
Whether it is about recording your mouse and keyboard activities on a Windows screen or something else, Pulvero's macro recording tool has everything covered. It lets you create a number of macros on your project. The friendly user interface allows you to perform more tasks than you might think. For example, you can record macros with the 'Record' button; test your macros using the 'Play' button, and create macros using the 'Export' button. You can also adjust the playback speed according to your requirements.
The macro recorder lets you apply your coding skills to explore its full potential, but even if you're not pro, you can still use it to good effect. Even better, you can learn a few tricks by following video tutorials on different commands.
2. MacroRecorder
This easy to use macro reader offers seamless automation of the repetitive tasks and helps save your precious time. The MacroRecorder tracks user activities for subsequent playback. The key advantage of this automation software is, it enables the user to automate repetitive tasks more quickly and with much less effort without needing custom Windows programming or coding.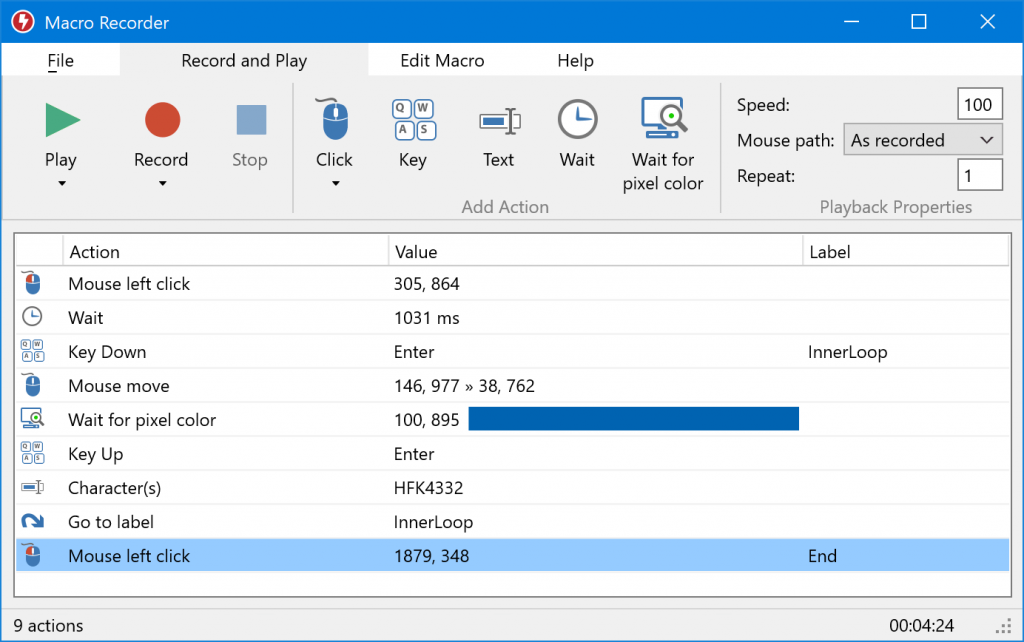 This standalone macro software allows the user to record and playback mouse and keyboard tasks at a later stage. With the freedom to adjust the playback speed, you can record, run or create your macros as you want. MacroRecorder is suitable for both Windows and Mac systems.
3. JitBit Macro Recorder
One of the software programs you can use to make your tasks more efficient is JitBit Macro Recorder. Featuring a user -friendly interface, JitBit Macro Recorder is a powerful mouse recorder that can monitor and record operations, activities and optimize tasks in a Windows environment.
The JitBit Macro Recorder isn't your normal macro recorder. With this system, you are not constrained to capturing or recording keystrokes, mouse movements and clicks only; but you will also be able to load commands, instructions, and declarations by entering a number of actions into the program.
It's incredibly easy to use, so much so that even a complete beginner who has never used the program before could easily generate automation sequences within a couple of minutes.
4. AutoIt
Did you know that Autoit is one of the best macro recorder programs to automate tasks in your system? It enables you to accomplish a range of complex tasks in half the time. This tool for Windows will imitate keystrokes and mouse motions, and submit each instruction documented in the macro to the program or application in which the macro is to be enforced. This software is enough to accelerate your productivity and make you more efficient in your work.
Using this method, you can record a series of movements, keystrokes as well as mouse movements and taps (single or double), not just for one application, though this is generally the case. AutoIt Recorder can be activated simply by forming a new file or script.
The macro reader offers a range of functions, which is one of its great advantages. It also lets you optimize string operations, basic text, clipboard functions, and alter registration entries. This macro recorder is also available for free download.
5. Mini Mouse Macro
Mini Mouse Macro is a wonderful free macro recorder that records keystrokes and mouse clicks. It is quite different from many other mouse macros out there because it has the capacity to actively record your mouse activities, keystrokes, and clicks. This macro tool can be installed in Windows and will take your work to the next level by recording and capturing your actions in real-time. Another useful feature of Mini Mouse Macro is the flexibility to save your macro and load any macro you require whenever you need it.
It is essentially an automation program that allows you to effectively record and run your mouse key and keyboard keys. You may store and run instructions from any storage device, meaning you don't have to install software on your Windows PC. This macro recording software is therefore regarded as the most portable macro recorder available online.
Its features include:
Quick and efficient mouse macro
Customization of the display by using slim screen options
No installation is mandated
Computer editing and word processing
Drawing and animations, and much more.
6. EasyClicks
EasyClicks Macros is a strong automation tool that allows you to create macros quickly and easily. When you get the hang of it, you'll see that EasyClicks is the much more sophisticated than any other macro recorder for Windows you've ever come across.
This automation tool incorporates the simplicity that you might expect from an action macro recorder, with the accuracy that could otherwise only be accomplished through scripting code. The best part is, you don't need to be a coder or programmer to run this macro tool.
The advantages of EasyClicks Macros include:
It lets you generate scripting code quickly and easily without requiring too much understanding or expertise.
You can also allocate a hotkey to each macro.
With EasyClicks, you can almost spontaneously generate and set the shortcut for your macro and then attempt and modify several times it from Windows if you wish.
In short, it's speedy and smart. There's a lot you could do, which is set to expand to even more in the future, while always retaining its fundamental core concepts.
The interface of this macro recorder tool is so easy to use that you don't shouldn't face any significant problems when using it. It allows you to submit clicks to particular parts of Windows, manually configure your keyboard keys, and instantly repeat the operations as many times as you choose.
In short, EasyClicks is a super-easy recorder. It only requires you to touch a few keys to execute macros. Plus, you'll have the opportunity to learn in terms of diversity of the app and its smart scripting.
7. AutoHotKey
Another flexible program that's compatible with Windows, AutoHotkey has a clear, versatile interface that helps you to concentrate more on the task at hand than on small technicalities. The macro software not only follows the traditional essential-procedural paradigm but also item-oriented and command-based programming.
There's so much in the arsenal to learn. AutoHotkey is one of the best tools to capture repetitive tasks and perform them easily and quickly. It gives you the ability to monitor mouse movements and clicks, type keys, etc. You can compose your own macro either manually or with the support of a macro recorder.
But here's something interesting: AutoHotkey lets you build hotkeys for multiple devices, including mouse, keyboard, joystick, motion sensor, etc. The upgrade option of this program offers the opportunity to modify volume, transform joystick and other devices to mouse function, and etc.
This is a go-to tool because there is plenty of AutoHotKey help to let you understand this tool and use it like a pro. It'll educate you right from the start, and take you to another level.
8. Do It Again
This is a free tool for Windows that allows you to record and automate your most repetitive tasks. Do It Again is a free and easy tool that allows you to automatically do a task on your computer whenever you want. Do it again is another excellent macro maker. It gives you all the essential functions to log and execute arbitrary activities. 
You can make, play and record mouse clicks and keys. If there is something you do on your computer again and again, and you do it precisely the same every time, you can automate it on Do It Again. You'll learn how to execute the function by doing it yourself to form a new process. This will allow you can automatically execute the task whenever you want.
The Do It Again macro reader will instantly tap the buttons and press the keyboard keys the very same way you did when you generated the task, while you sit back and enjoy the task on the monitor. This automation software features easy text-based scripting of task files (they are saved as.dia files in the folder where Do It Again is mounted; open them and the code will be self-explanatory and easy to read). It also offers a number of other tools that monitor the replay of activities.
9. Mouse Recorder Premium
Mouse Recorder Premium is a free macro recorder for repetitive tasks and activities for software testing optimization, site automation, or to free yourself from any repetitive work. Mouse Recorder is as simple as a tape recorder but records the mouse clicks and keystrokes instead of audio. All you need to do is to hit the play button for instant macro playback. Make sure to adjust the playback speed. This macro creator allows you to set the timing to modify mouse behavior or add additional clicks or key-presses. No coding skills were needed. Mouse Recorder could alternatively replace edgy mouse activities with soft curves and modify timing to assist you to create professional video guide screencasts. It's an easy-to-use application that makes using functions and controls simple.
Macro development was never so simple. You can record taps, keystrokes and mouse clicks, and repeat them whenever and as many times as you want to. Mouse Recorder can not only record mouse clicks and keystrokes, but it also rebuilds the position of the documented applications window if they have altered. Macro recordings can be converted to the famous "PhraseExpress" Text Expander to get strong additional features. Mouse Recorder Premium is free and open-source for both personal and commercial Windows PCs.
Conclusion
After reading this article, you'll have a good understanding of macros recording software, and which is one of the best for you. With most of these macro readers suitable for Windows, you should choose the best tool for you based on your budget, coding skills, and the tasks you perform regularly.