Watching your favorite show or movie on the big screen is a whole other experience than watching it on your mobile phone. To project a film on your wall would be excellent only if the projectors did not cost so much.
Projectors are pretty handy for mass viewing in offices and educational institutions. But this could be heavy on your movie budget.
There is a solution for everything. For example, you could download a projector app on your smartphone or create a projector on your own.
Fret not; a DIY solution, endorsed by many, is there for your rescue, and we will help you out with it.
Employ a little bit of science, knowledge, and equipment available at home, and you can create a projector in your living room in no time.
Read on to learn how to project a mobile screen on the wall without using a projector. This guide will include tips and tricks to create a DIY projector at home.
Things you will need to turn the phone into a projector
These are the essential requirements to turn the phone into a projector:
A Standard shoebox
A Magnifying glass
A Cutter
Black tape
A Pencil or a pen
Black paper or paint
Glue
A Smartphone (obviously)
Binder clips
Tip: If possible, try to get a black shoe box; this will make the process super convenient and save time.
Things to do before Assembling
If your shoebox is not black, you will need to cover the inside of the box with black paper or black paint. Other colors will reflect light inside the box and hamper the wall's projection quality.
Make sure the holes in the box are sealed with black paper or tape.
Start creating your phone projector
Here are the instructions to turn the phone into the projector. These are pretty detailed to help you create a perfectly working projector.
Step#1- Trace the Magnifying Glass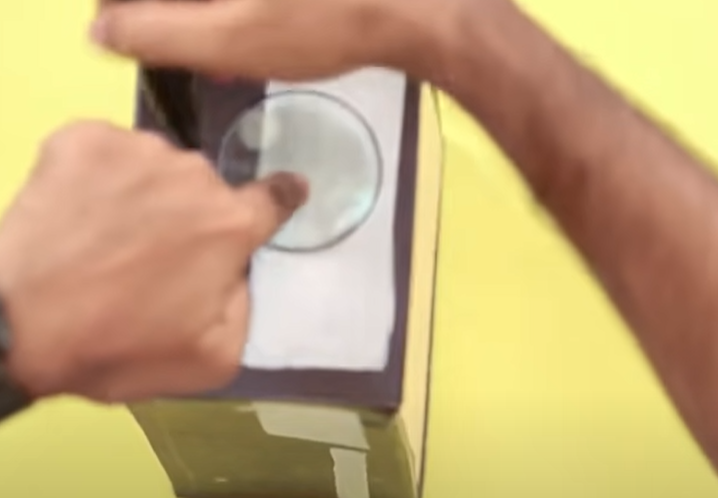 Each magnifying glass comes with a handle that can be unscrewed easily. Place the smaller side of the box on the table. On the small opposite side, place the magnifying lens in the center and trace closely around it using a pencil or a pen.
Step#2- Create the hole for the Magnifying Glass
Using a cutter or a knife, carefully cut on the traced pattern on the box. Try to be as accurate as possible.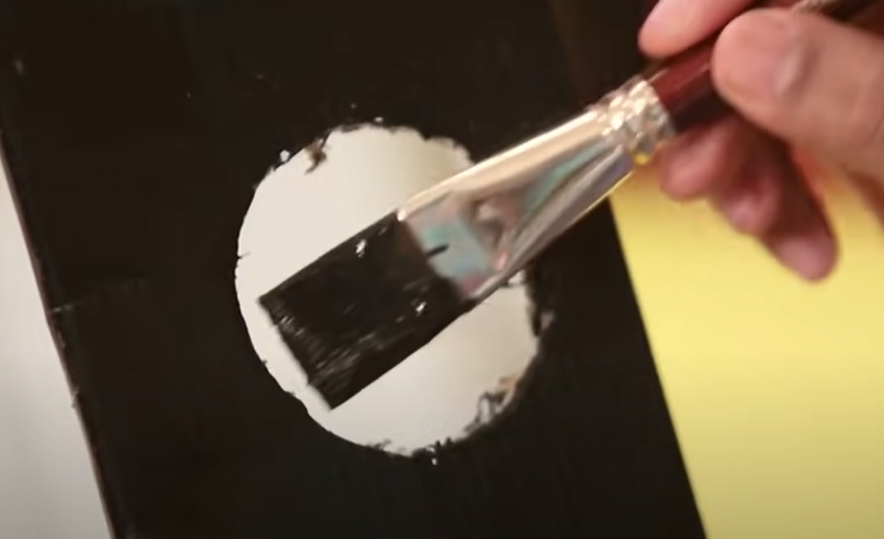 Also, depending on your supplies, cover the inside of the box with either black paint or black paper.
Step#3- Place the Magnifying Glass
Once the hole is cut, remove the inside circle. Next, place the magnifying glass into the hole made. Make sure it is positioned firmly and that the bulging side of the lens faces outside.
Now, seal the edge of the lens to the box with black tape.
Step#4- Seal it
Make sure the interiors are black. Use black paint or paper to seal any hole and create an all-black environment where no light can seep in.
Step#5- Position the phone
Once your projection setup is ready, it is time to position the phone. Use the binder pins to create a makeshift stand for your smartphone.
It would help if you placed the phone on the other side of the magnifying glass.
Step#4- Project images on the wall
When light passes through a magnifying glass, it will flip, and the images will be projected upside down. Flipping the phone will not work here. So, here is what you need to do.
The first step here is to change the phone settings.
For iPhone settings, select the General option and then choose Accessibility.
Now, click Assistive touch, and in the following menu, select Devices.
Now, adjust the screen.
For Android phones, you can access the Google Play Store and download Projector Rotating apps such as Ultimate Rotation Control.
Move the phone around to find the proper positioning, so the image is projected on the clear wall. You can also move the box near or away from the wall to enhance focus.
Projector Apps
Projector apps enable the user to watch videos on the big screen. They also enhance and upgrade the quality of your videos.
Best Phone projector apps
Here is a list of some of the best phone projector apps for your Android phone and iOS devices. These will let you connect your phone to wireless projectors without using HDMI or mini HDMI port, MHL cable, USB C, or HDMI adapter.
#1- Epson iProjection
The Epson iProjection is one of the best phone projector apps for iOS devices which is also free of cost. It allows wireless projection of pictures, videos, and data from your phone to any big screen.
This app's unique interface is easy to use, and one can quickly use their phone as a presentation management tool.
#2- Video Projector Stimulator
This is another easy application to collect exciting, fun moments with friends. It acts similar to that a video animation projector.
The video projector simulator prank uses HD graphics and allows the rotation of images.
#3- Panasonic Wireless projector
The Panasonic Wireless projector app is multi-faceted; it can be used for official, educational, and personal projects. In addition, the wireless feature can assist you in displaying pictures and other media on the big screen.
This app can convert your phone into a projector. It comes with many features and is compatible with Android devices and the iPhone. The Panasonic wireless projector app is straightforward to use; download the app and start projecting.
Its multi-live mode feature stands out, which allows the user to project from multiple devices. It also has a marker function to create a mark on the document or an image while projecting.
#4- Multi Presenter
This phone projector app converts your phone into a projector to project on various screens. Its in-built tutorials guide the user on usage and its image mirroring function, which is its unique feature.
The Multi Presenter app allows viewing photos, images, direct camera feeds, etc., from your iOS and Android phone to the big screen.
#5- Asus wi-fi projection
The ASUS Wi-Fi projection is a great Android phone projector app that you can easily download and install from the Google Play Store. It supports PDF, MS Office, JPS, PNG, and other formats projected on a different surface through a Wi-Fi network.
The ASUS Wireless-ready projector comes along with a small Wi-Fi adapter. This adapter allows you to connect with Android and Notebook PC.
#6- iShow
iShow is an easy-to-use phone projector app that will enable you to connect wirelessly with the projector to cast documents, pictures, and other media with your Android phone.
iShow is a unique app that is cordless and allows cross-transmission. It also provides storage assistance with Google Drive, Dropbox, etc.
universal projector remote control
This remote control app works on projectors of any model or make. Download the app, and connect and control the projector with your Android phone.
Conclusion
There you go; this article has covered all the aspects of turning your phone into a projector. Right from creating a fun project, your very own projector, to a list of some great performing apps that can convert your phone into a projector.