Introduction
Behind the secret of an application's successful journey must be a practical focus on monitoring the application. In this article, we will emphasize the importance of monitoring your application. It will also help understand what it is and its importance in development, business & IT departments. It will also shed light on some of the remarkable tools of application monitoring and other relevant aspects. Let's have a view at why monitoring you application is important?
Understanding Why Monitoring You Application Is Important?
Application Monitoring is a digital systematic process of tracking and noticing the application presentation in real-time. To discover application efficiency and find potential glitches, it collects and analyzes a variety of metrics, such as Application performance, availability, response time, consumption of resources, rate of error, and interaction between user and application.
Surely now you will ask and want to explore that why we do application monitoring is necessary. The facts and reasons on behalf. So, e we will explore it in te following sectors. Let's have a view!
Why monitoring your application is essential?
There are a few reasons why monitoring your application is essential for business and startup, so let's look.
Avoiding Downtime: The Power of Application Monitoring
Sometimes, the app goes down, so it is not only a matter of glitches but also has a destructive impact on your business and will cause money loss, reputation, and maybe a loss of users. But in this case, the application monitoring step is a superhero. Instead of getting into the issue of having a problem, you must check on the balance of app performance.
Moreover, by doing this, the app may be away from any issues, and things might not be stuck. You can solve the case before the problem, and your app will be safe, and the users will have a smooth and peaceful experience.
Cracking The Erp code How Monitoring Boosts Your Bussiness
An enterprise resource planning (ERP) system is a complex puzzle. But don't you worry? Application monitoring helps you and guides you with this ERP. Moreover, it has a map that shows you how it works. By watching, you can see its parts, their talking, the spot, and everything. It not only does not fix the problem but also helps you to create productivity and boost your business.
Finding Slow Spot
Just think that your application is a busy road or highway, and sometimes there are marks where the traffic slows down, called a bottleneck.
Thus, Application monitoring is just like a traffic manager for your app. It monitors where things slow down, the issue, and everything. By fixing these issues, you ensure a smooth journey for your user.
Boosting How Your App Work- Easy With Application Monitoring
Enhancing your app's performance is vital. It's like a superhero that serves the way the application works with others.
Suppose your app takes place in the competition as a significant part and keeps a check on its every action to guarantee not having any potential issues this way. You can modify the setting.
Furthermore, by doing so, your app becomes more reliable and trustworthy and has a smooth and error-free game.
Balancing Cost
Cost is the most significant concern in a business, and application monitoring takes a massive figure in optimizing expenses and making the company more profitable.
You can get an insight into resources way, performance, and system behavior by checking it; however, this allows you to decide to optimize and manage the costs.
Get Rid of the hacking risk
Unfortunately, we live in an era where hacking has become common, and hackers are scored everywhere and ready to attack. In that case, monitoring your application is the best way to eliminate this issue. This way, you alter before anything happens, and you can save your application before any potential problems.
Thus, for all the basic reasons it is hence a must to have the proper application monitoring as it will assist in protecting your app from any of future problems like hacking or else.
Some Best Tool For Monitoring Your Application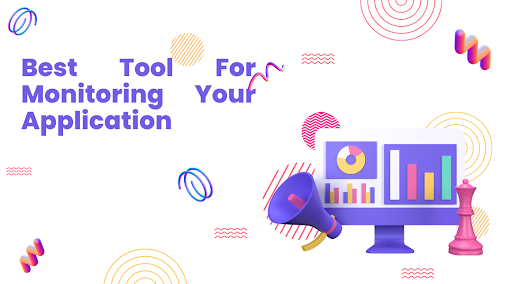 Let's explore some of the best tools for monitoring applications.
New Relic
It's an applications monitoring tool that provides a great set of features and improves your performance.
Pros
It provides the high site Speed Monitoring
The new relic is considered to be a potential solution for monitoring your application nd protecting it.
It helps a lot in bringing out the excellent yet well-maintained reporting
Cons
The new relic platform is very technical; leading to difficulty in using and monitoring through it
The interface is really hard to use. Hence, annoys the users while using
The pricing rate is confusing
DataDog
Another, exciting tool that you must know is Data Dog. Surely you will be thinking why it is that exciting? So, basically It's also an application monitoring tool that offers the user a tremendous comprehensive feature that optimizes your application performance and hence makes itself so exciting. Below are more pros that make it much for fantastic.
Pros
The Data Dog tool is very easy to use and navigate
The interface of the tool is user-friendly
It has a very powerful and configurable User interface
One of the exciting benefits is that it comes up with a Cloud-native startup
Cons
There are a few steps that are full of quite Complex process
It is Costly in price
The platform is difficult to scale
AppDynamics
It stands for the top of the tool. It offers a great variety of features that will set a competition. App Dynamics enables business into the deep.
Pros
Massive coverage of programming language
Customer support
Easy set up
Real-time visibility
Cons
Conclusion
We conclude why monitoring you application is important and understands that it is really essential for a business, IT, or other. It helps you in the application performance, safeguards you from potential issues and cyber attacks, and balances your expenses. Hence, this is not about the checking. It's also about a relaxing and smooth experience for your user. Moreover, we have also discussed the pros and cons of some reliable application monitoring tools that must help you.
Recommended