Owned by the tech giant Facebook, it's a no-brainer that Instagram is the most intuitive, user-friendly photo and video sharing social media platform available to us.
Lately, Instagram app users have complained about the Instagram photo can't be posted error message they are experiencing while uploading images on their Instagram account.
So we've done detailed research on the "Instagram photo can't be posted" issue and came up with a clear blueprint to troubleshoot the same. Let's dive right into it!
List Of Possibilities Why Your Instagram Photo Can't Be Posted
There are a plethora of reasons why you are unable to upload photos or videos via the Instagram app-
The device's Storage Space Is Full
The primary reason why your Instagram photo can't be posted is due to the lack of storage. If you're running out of internal storage space, you will face the issue.
To post images or post multiple photos on your Instagram account, make sure you have some free internal device storage to work with!
More Instagram Cache Files
Another good reason is an excessive number of Instagram cache files preventing you from posting photos or posting multiple photos.
Cache files are nothing but temporary files stored in your device's memory as cache memory. It helps you load an app or website faster for a better user experience.
On the contrary, too many cache files can cause an app to malfunction. We recommend you clear the Instagram cache to resolve the issue. If you want to know how to stick around while we break it down for you in the latter part of this article.
Poor Internet Connection
This is a no-brainer. We all know how an internet connection problem can ruin all the fun! The same goes for posting your favorite photos on the Instagram app.
Network issues or limited data usage may be why your photo can't be posted. Make sure you check your Internet Speed or data usage before you attempt to post pictures.
Instagram Is Facing A DownTime
Though Down Time is a scarce scenario, yet not impossible!
Once in a while, the Instagram team may keep it down for a couple of hours for maintenance purposes.
So, these are the possible reasons you're unable to post on Instagram. Now, let's see how we can fix the Instagram photo can't be posted issue:
Fixing Photo Can't Be Posted Error
Solution 1: Clear Cache Files Of Your Instagram App
Instagram is an app made primarily for smartphones. So your Instagram app may be overloaded with cache files.
To clear the Instagram cache on your Android device:
Step 1: Unlock your smartphone and long-press on your Instagram app icon.
Step 2: From the options on your screen, tap on App Info.
Step 3: When the App info pops up, tap on App Info.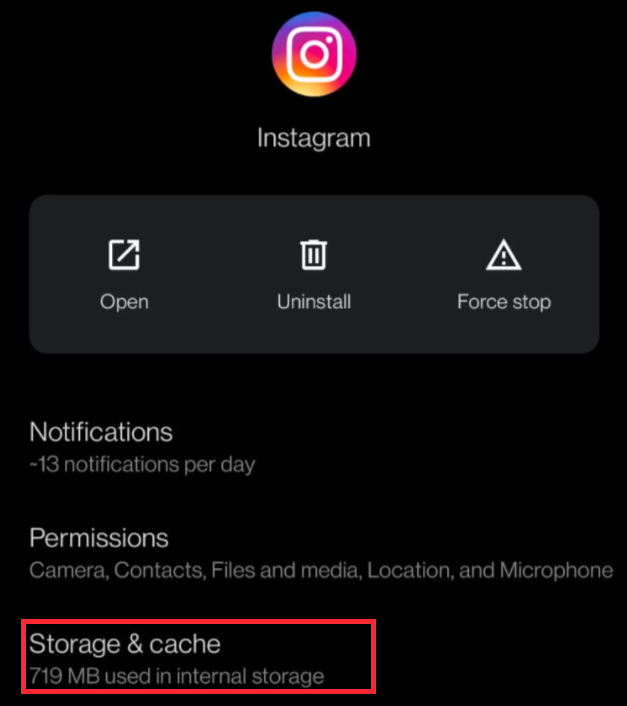 Step 4: On the next screen, tap on the Storage & cache option.
Step 5: Now, select the Clear cache option.
Kudos! You've successfully cleared the cache on your Android smartphone to fix the Instagram issue.
Now for iOS users, the quickest way is to uninstall apps, then re-installing apps again. But, unfortunately, there's no other way unless you use a third-party app and your PC to clear the Instagram app cache- and that's a bit daunting!
Follow the steps below to uninstall and re-install-
Step 1: Head on to your iPhone settings.
Step 2: Post that, locate General > head on to iPhone Storage. Find the Instagram app.
Step 3: Now, you will be able to find the Delete App option.
Step 4: Confirm, and that's all!
Once un-installed, head on to the App Store, search for Instagram, and re-install it!
Solution 2: Running a Full System Scan
Running a Full System Scan to check for viruses is an excellent way to fix the issue. Unfortunately, at times, we unknowingly download viruses while surfing the web.
We have zero clue that this unwanted malware mainly affects the social media apps like Facebook and Instagram. Also, some other system files can get involved by these viruses.
We recommend you run a full system scan. Post that, launch your Instagram and try to post a photo and see if it works.
Solution 3: Switch On and Switch Off Airplane Mode
This is by far the quickest and the easiest fix on our list, and this method works for every 6 out of 10 users getting the Instagram photo can't be posted error.
Quite a few times, you must have noticed that the connect connection drops down by a fair margin after prolonged usage. To restore the internet connection to its full potential, switch on your Airplane mode for a couple of minutes.
Post two minutes, switch off the airplane mode to restore a strong Internet connection.
Now, try to do an Instagram post to check if it works- this should do it!
If not, do not fret. Keep reading for more solutions ahead.
Solution 4: Delete Unnecessary Apps From Your Smartphone
Let's admit it- we all have a bunch of third-party apps lying idle on our smartphones for no good reason, and we barely use them.
It's time to free your mobile devices from it- uninstall them to free up internal storage space. Also, if you have recently downloaded a document for a one-time purpose and no longer need it- delete them too!
Now, try to post on Instagram and check if it works.
Solution 5: Check If Your Instagram Data Saver Is On
Instagram has this feature of data saver option, which allows you to set a data limit that keeps a check on your cellular data use.
Exceeding the set limit, you won't be able to view videos and upload photos on Instagram.
follow the steps below to disable the data saver mode:
Step 1: Head on to Instagram Data Settings.
Step 2: In the Data Settings window, locate the "Account" option and tap on it.
Step 3: Look for the "Cellular Data Use" option on the next screen and tap on it.
Step 4: Disable the Data Saver toggle, and that's all!
Solution 6: Updating Instagram To Its Latest Version.
Companies roll out the latest versions to fix bugs and enhance improvements- Instagram is no different!
We often forget to check for app updates, which is why we face issues like "Instagram photo can't be posted".
Apps that we fail to update have a high chance of getting affected by viruses and malware, which may be the reason for this error. So, let's update Instagram as this will only take a few minutes.
Head on to the play store (for Android phone users) and App Store (for ioS users) and see if there's an update available to download. There's a good chance you will see an update available to install.
Once updated, launch the app and try to post on Instagram. We're sure this would work!
Solution 7: Try Reducing Image Size
Instagram supports a max photo resolution of 1936 x 1936 pixels. For videos, the numbers are 1920 x 1080 pixels.
Say your phone camera has a 4K video support and a UHD sensor, and you have shot at max settings; you won't be able to upload on Instagram.
Try reducing the image size first, using a third-party application like Resize Pixel. Once done, try uploading your photo and see if it works.
Unique Scenarios: Instagram Photo Can't be Posted
There are a couple of unique scenarios which are causing the trouble. Unfortunately, if you happen to face either of the issues mentioned below, there's no quick fix for you!
It would help if you waited for the said time to be able to post on Instagram again.
Make Sure You're Not Violating Instagram Policies
Instagram may seem like a fun app, but it has some strict policies to make sure the content you put out on this platform is not objectionable.
This platform has millions of moderation bots that crawl around to detect prohibited content. Of course, we mean nudity, violence, and gory images/videos with prohibited content. If found, Instagram disables the user from uploading in the future and pulls down the violated content.
Make sure the photo you are trying to upload doesn't violate the policies, as you can get flagged or suspended for putting out objectionable content.
Make Sure Your Actions Are Not Blocked
From 2018 onwards, Instagram safeguards user accounts to prevent spamming other users on the platform with promotions. In addition, users use 3rd party bots to attain followers in a short period- Instagram keeps a check on that too.
Suppose Instagram finds you participating in any non-authentic behavior, such as uploading too many photos and commenting on too many posts in a short period. In that case, it will temporarily prevent you from doing so.
We recommend you not post many photos in quick succession if you're new to Instagram or your account is relatively new. This can help you not get temporarily blocked. If you're temporarily blocked right now, 30 days is the waiting period- you'll be able to post photos 30 days from the day you got temporarily blocked.
Final Words
Keeping the above-mentioned particular case scenarios aside, an Instagram photo that can't be posted is a pretty annoying error to encounter.
We have done all the legwork for you in bringing the best bunch of seven troubleshooting methods to get rid of the Instagram photo can't be posted problem- and we're sure that out of all the possible solutions mentioned, one is sure to be the fix for you.
We want you to be a little patient and keep scrolling till you find the right solution for you. Since you're on our final words- we're sure that you have solved the problem by now. So kudos to you!