There are various Instant Messaging (IM) platforms available that have enhanced the means of communication and enabled users to have conversations with people in real-time. Among the popular names, WhatsApp is a well-known Instant Messaging app that billions of people use to send text messages and voice messages.
Users can also make voice and video calls, and to share images, documents, user locations, and other information with others without much hassle. It can be used on your Android phones, tablets, iPads, or iPhones and also through the web interface on your Windows or Mac PC.
Undoubtedly, WhatsApp is the most popular Instant Messaging app nowadays for social interaction and talking about social interaction, there is one thing which automatically comes in our minds and whomsoever it may concern is – "User Privacy".
While sharing your words, thoughts, images, videos, and documents, you also share a part of your privacy to all the users who are on your contact list, unknowingly. By default, they even know when you were last active on WhatsApp, when you are online or offline when you have read a message, what new Display Profile picture you have, and so on. But, what about the people who don't want to share all that information with others or a selected few?
Although WhatsApp has enhanced its security and privacy features over time by introducing features like turn off your last seen, turn off your read receipt, set up who can add you to a group, and some more, does it provide a feature to hide WhatsApp Online status while chatting?
Often, there are times when you don't want to share your status – Online/Offline to anyone or a few people. This may be because of several reasons. Perhaps, it builds a psychological pressure on you to reply immediately as the sender has seen you online. Maybe you don't want to clear out to your family members why you were online on WhatsApp too late.
Or, maybe you just don't want someone to stalk you and know when you are online. Now, the problem gets tricky when you have to open your WhatsApp to check an important link sent by your company boss. But because your status is visible to all, other people also start bombarding messages as they see you online and expect a quick reply from you. In situations like these, we can say every application facilitates its customers in many ways but has their individual strengths and weaknesses, more pros, and fewer cons.
I know many people fall into a situation where they want to do a WhatsApp chat with a particular person without appearing online to others for their own reasons. In this tutorial, I will show you some solutions to hide online status on WhatsApp while chatting.
To handle such a situation, first you have to understand that WhatsApp has NO feature which can stop showing your "online" status to people on your contact list. When you open your WhatsApp and come online to chat with someone, every person on your contact list can see you are active on WhatsApp. But yes, as they say, there is a solution to every problem. So, can you hide WhatsApp online status while chatting? Let us find out.
Can you hide online status on WhatsApp while chatting?
Yes, you can. Although, there is no direct option to do so, there are sure some hacks that you can follow in order to hide your WhatsApp status while chatting with someone.
How to hide online status on whatsapp while chatting?
Here are the alternate ways to hide online status on WhatsApp while chatting:
Method 1: Reply From Screen Notifications:
To be able to use this method, make sure you have turned on WhatsApp Notifications on your phone. In case its off, you can turn it on by following below steps:
Go to Settings on your phone and open the Notifications section.
In Notifications, you will see all installed apps for which you can enable or disable screen notifications.
Scroll down to WhatsApp application, open its notification settings, and Allow notifications for it.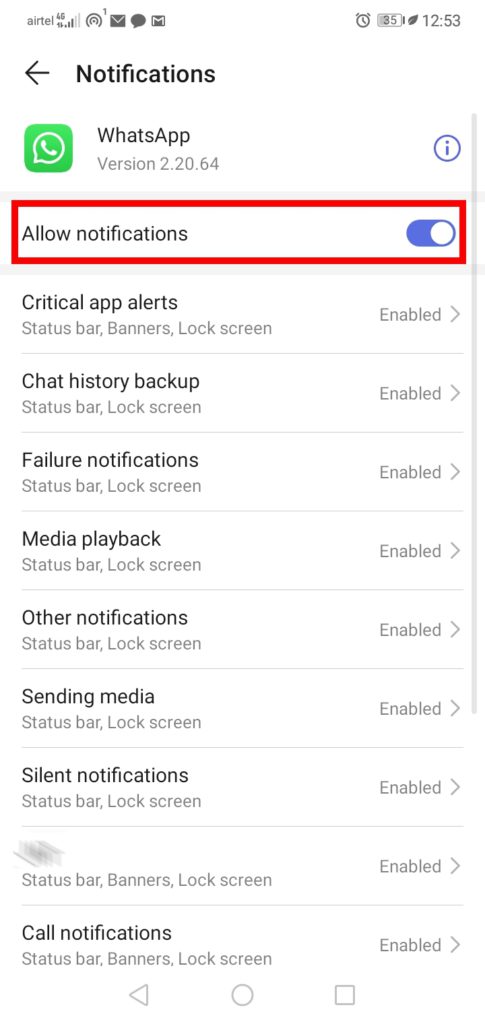 You will now get all notifications for new received messages on WhatsApp. Now, scroll down s WhatsApp notification, open the drop-down menu, click Reply button, type in your message, and press the Send button. Do not open the app. This way you can have a conversation with someone and your online status will remain hidden from others.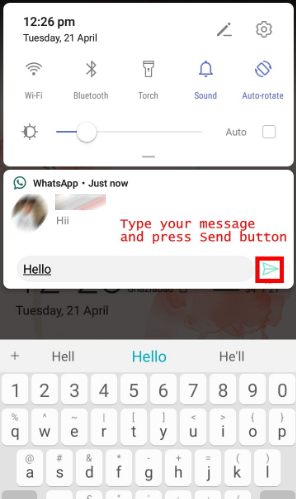 This is the easiest way is to reply to the message directly from the notification without being online to WhatsApp.
Method 2: Internet Connection: Turn off, then Turn on!
When you receive a WhatsApp message and you want to reply to a selected few without being shown online to many others, follow this trick:
First, disable your internet connection, WiFi or Mobile Network, from Settings option on your android phone.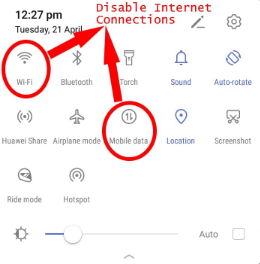 Now, open your WhatsApp and reply to whichever conversation you want to.
Close your WhatsApp application now.
Enable your internet connection that you use, WiFi or Mobile Network.
That's it. WhatsApp will send the messages to other people just when your internet connection is reactivated, without you appearing online to anyone.
So, these were two of the easiest methods to hide WhatsApp online status while chatting with someone. You can use these methods to avoid situations where you HAVE TO reply to someone because they saw you online or to avoid explaining to someone why you were online.