Messenger is one of the most popular Instant Messaging (IM) apps in current times. It is a free mobile messaging app for Facebook users which enables them to perform instant one to one chats or group chats. Along with text messages, you can also share pictures, audio, and videos via Facebook Messenger on your android and iPhone mobiles.
The advantage of this app is that it is versatile in terms of platforms it supports. You can use it on your Android, Windows, or iPhone, in a web browser (like Chrome or Firefox), as well as on Windows or Mac desktop.
The video files shared on your Facebook Messenger app by someone can be previewed in the app itself and you can also send them to other Facebook users in your contact list. You might as well want to save the video shared by someone on Facebook Messenger on your device. But, can you download the videos shared by someone through Messenger? We will find out in this article.
Can you Download Video from Facebook Messenger?
Yes, of course! Through your Messenger app, you can easily download a video shared with you in a few clicks. You do not need any external tool or a screen recording app for this. In this tutorial, I will be showing you how to download a video from FB Messenger and save it to your local media gallery. But before that, let me share some advantages of saving a video from Messenger on your device.
Advantage of Saving a Video from Messenger to your Phone or PC:
The first advantage to save a video locally is that you can open and view it directly from your phone's or PC's gallery at any time.
You do not need an internet connection to open the app and play the video again and again.
You do not have to go to your Messenger app over and again and carry out the tedious task of scrolling up and finding a chat to open a particular video. It can be really tiresome at times to do so.
You can play a video in a video player app with playback controls like rewind, forward, stop, pause, etc.
You can share the video with your friends and family via other messaging and multimedia sharing platforms.
Now, let's get started with the actual tutorial, which is how to download a video from FB Messenger. I will be listing steps to download videos from Facebook Messenger for different platforms.
Note: Do remember that one cannot save a video which was directly sent from Facebook as a post. The video has to be uploaded by a user through Facebook Messenger to download it.
How to Download a Video from FB Messenger on Android or iPhone:
As the Messenger app does not automatically save shared videos locally to your phone, you need to carry out certain steps to do so. There are a few simple steps that you need to follow in order to download a video from Facebook Messenger. The process to do so is similar for both Android and iOS platforms. However, the text label for save options may vary on both platforms. Here, I am sharing a tutorial for Android phones. You can follow the same steps on your iPhone and use the respective option to save or download a video from Facebook Messenger.
The steps to download a video from Facebook Messenger are:
First, open the Messenger app on your mobile phone.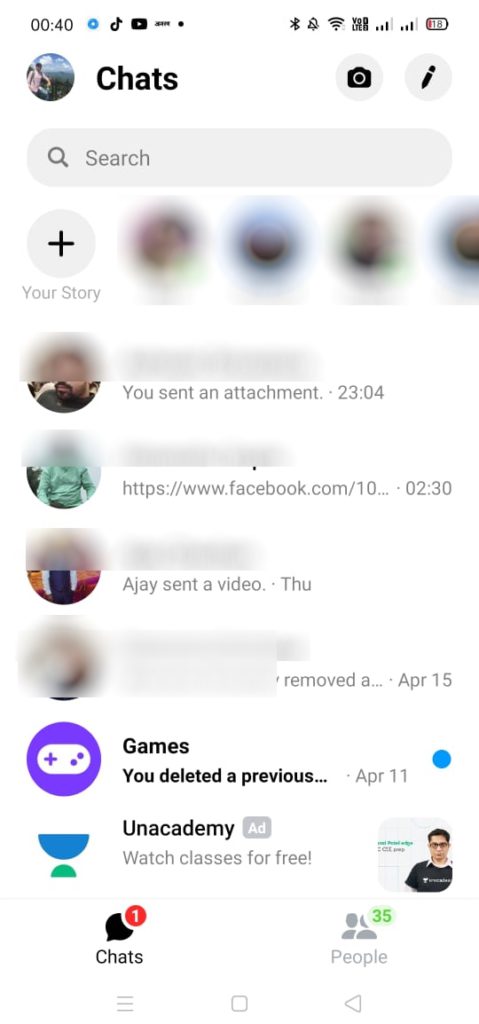 Go to the chat from which you want to download a shared video. You can preview the video within the app.
Now, just press and hold the video that you want to download for a few seconds.
As you long press a video, you will see multiple Emojis and some options, one of which is a Save Videooption. Apart from that, you also get options to forward the video and to remove the video.
Tap on the Save Video option and allow Messenger app to access media files on your device.
When you allow access, the video will be saved in your local gallery, particularly in the "Messenger" folder.
You can now play the video in any of your media playing apps without having to open your Messenger app again and again.
How to Download Video from Messenger in Desktop:
You can also download video from Facebook Messenger on your PC. Follow the steps given below to do so:
Open Messenger online in a web browser and log in to your Facebook account.
Open a chat to save a video from there.
Click on the video to open it up in full screen.
Few options will appear on the top of your screen including the Download option. Click on the Download option highlighted in Red in below snapshot and it will let you save the video in a local folder on your PC.
Another alternative to save video from messenger on PC is by using the desktop version of Messenger. You can download and install it from Windows Store or Mac App Store. You can then login to your Facebook account in the desktop app and the rest of the steps to download video from messenger are similar to the above mentioned steps.
So, this is how to download video from Facebook Messenger and save it locally on your device. You can play the video anywhere without an internet connection and also share it with other people via different video sharing mediums.