Messenger is a popular IM (Instant Messaging) app from Facebook used by millions of users all over the world. You can use this app not only to message your Facebook contacts, but also your phone contacts. Yes, Messenger comes with an option to sync Phonebook contacts to it, so that you can contact them directly via this messaging app.
At some point of time in our life, we may face or may have faced the situation when removing a contact from Messenger is / was required. As you must be knowing that both our contacts as well as strangers can message you through Messenger. Whatever the case may be, receiving messages from friends or strangers may get annoying at times. Whether you are receiving annoying messages or even random sales messages from contacts or non-contacts, if you want to remove people from Messenger, you have come to the right place.
Starting with a simple answer to the question, does Messenger let you remove contacts from your contact list? If yes, how? And are there other options than just removing the contact? We find out below in this article.
Note: The procedure to remove people from Messenger mentioned in this article is updated according to the latest version of Messenger as of April, 2020. You can probably follow the same procedure to remove people or contacts from Messenger in the near future, as the process has been the same for earlier few versions of Messenger.
Is it Possible to Delete Someone from Messenger?
It is absolutely possible to remove someone from Messenger. If you wish to stop receiving messages from a specific contact or non-contact, there are several ways that will help you with this. The options include simply removing someone from Messenger, ignoring their messages, or just blocking them on messenger.
Here are a few methods to help you remove people from Messenger. These methods are similar for both Android and iOS users.
How to Remove a Non Friend from Messenger
This method is for those who received a message from a stranger or from a person with whom you are not friends any more. If a person is spamming you with unwanted messages or otherwise, follow the steps below to remove the contact from your Messenger.
Step 1: Open the Messenger app on your mobile device. Look at the bottom of the app's interface to find the People / Contact icon as shown in the screenshot above. Tap on it.
Step 2: Now, on the top right side of the next screen, you will find a Contacts icon as shown above. Tap to open it.
Step 3: A list of all friends as well as non-contacts with whom you may have conversed with will appear. You may notice that all contacts are arranged in alphabetical order, and there is no option to search for a specific name or contact. So, scroll down till you find the contact you wish to remove.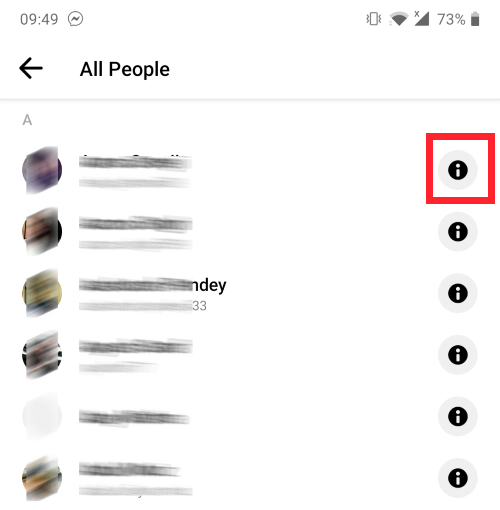 Step 4: When you have successfully located the profile of the person, tap on the i icon available on the far right side of the profile name.
Step 5: Once you do that, a profile pop-up of that person / contact will appear on your screen. There, you will find a Remove Contact option. Tap on it.
Step 6: Once again, another pop-up will appear to confirm if you really want to remove the contact. Press on Remove to confirm. The contact will be successfully removed from Messenger.
Note: This method only works for people who are not in your friend list on Facebook.
How to Remove a Facebook Friend from Messenger
Unfortunately, Facebook does not let you remove a Facebook friend from Messenger contact list, but here's an alternative that you can try. Ignore Messages from a Facebook friend. Using this feature will not remove the person from your Messenger, but will ignore messages from the contact. This means, you will be receiving messages from the contact, but you will not be notified about the same. Here's how to ignore messages from a Facebook contact.
Step 1: Open Messenger on your mobile device and find the contact whom you would like to ignore messages from and open the chat.
Step 2: For the next step, click on the i icon available on the top right section of the screen.
Step 3: A bunch of options will appear on your screen. Here, look for the Ignore Messages option available at the bottom and tap on it.
Step 4: You will get a pop-up message to confirm if you really want to ignore messages from the contact. Messages from the contact will be moved to Message Requests sections and the contact would not be able to know if you have activated the ignore option for them. Tap of Ignore to confirm your action.
Blocking People on Messenger
Alternatively, if you want, you can also straightaway block People from Messenger to stop receiving messages from them. If you block a non-contact on Messenger, they will not be able to send messages to you until you unblock them. Blocking a Facebook contact on Messenger means that you will be blocking them only on Messenger, and not on Facebook.
Follow these steps to block a contact / non-contact on Messenger: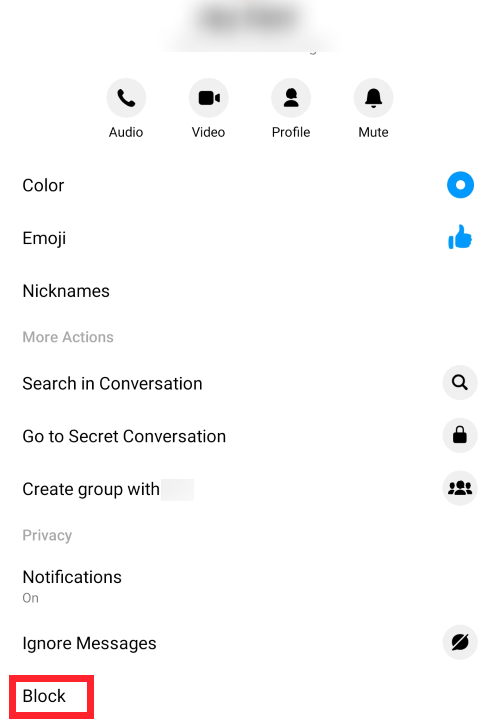 Step 1: Follow Step 1, Step 2, and Step 3 from the above section to find the chat with a friend / non-contact on Messenger, but instead of tapping on the Ignore Messages, tap on Block option.
Step 2: Confirm if you really would like to block the person on Messenger by tapping on the Block on Messenger option.