Amazon Prime is a premium subscription service from Amazon. It gives consumers access to the services which are either completely inaccessible to a standard Amazon customer, or only at an extra cost. The service offers free two-day shipping, downloading of music and video, among other perks.
So, do you have a Prime membership? If so, as a Prime member you've got 30 minutes' priority access to the Lightning Deals. You can browse future deals up to 24 hours in advance and receive notifications in the Amazon Shopping app by clicking on "check this deal".
You could either watch Prime Video with an Amazon Prime account, which costs $119 a year (or £ 79 in the UK) or $12.99 a month (£ 7.99). In the United Kingdom, you can also spend $8.99 a month (£ 5.99) for only Prime Video exposure. A 30-day Amazon Prime subscription and trial option is also available to new members.
Do you experience mood swings? No worries. Prime Music gives you access to over 2 million tracks and hundreds of songs and albums for every mood. Enjoy the full range of Prime Music at your convenience by downloading the free Amazon Music app on your phone or laptop. You can download albums and your favourite songs for offline playback before you head on a trip or board a flight.
Can you use Chromecast to Cast From Amazon Prime?
Having trouble finding the casting option in Amazon prime video app? This may because it's available in the latest version only. You can scroll through the Apple app store or Google play store for the updated version. One other aspect to keep in mind is that for the latest version you must have Android 5.0 or iOS 10.1.
Did you know what's the best way to stream Amazon Prime video on your TV? The best approach is to use the official app but that's not the only way. There are many other ways to stream Amazon Prime video on your TV.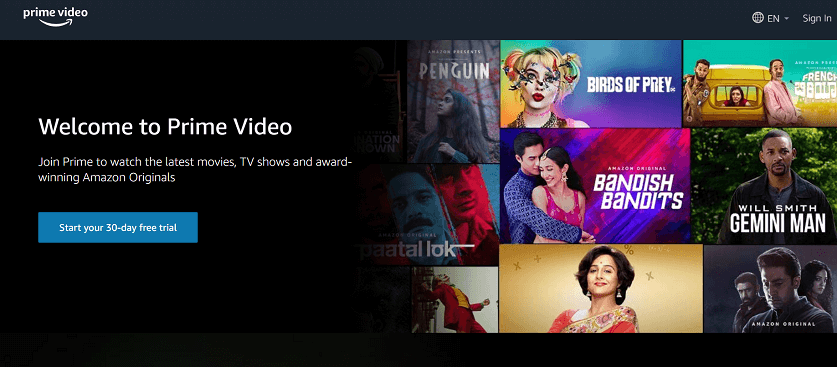 Using Set-top box or Streaming Stick for Casting Amazon videos
Other ways to watch Amazon Prime include using a set-top box or a streaming stick?. If you're not familiar with these methods, read more about them below.
Speaking of set-top boxes, Amazon has a huge list of available options for selective set-top boxes. From the perspective of support, however, it can't compete with Netflix.
On the other hand, Amazon set-top boxes can access Amazon content that is hard-baked into their operating systems. This enables you to see the content from your home screen menu and search results. They are compatible with Alexa and also offer a direct route to Amazon content.
You may also be wondering whether Amazon Prime is available on common streaming sticks or boxes. It is supported by Apple TV, Google Chromecast, Roku devices, and of course, the Virgin Media Tivo and similar.
How Do you Watch Amazon Prime Video on a PC or Mac?
Amazon Prime's video content can be accessed via a Google Chrome browser on a Laptop or Mac. When you move over to the website's Amazon Video section you can select from either Prime shows or films. You can display the Video on your screen. It can be displayed in either SD or HD, but only with stereo sound.
How Do I Stream Amazon Prime to My TV?
Amazon Video applications are accessible on various Smart TV brands, including LG, Panasonic, Samsung, and Sony TVs. All you have to do is add the app to your package, launch it, enter your Amazon account info, and you're all set.
There are a number of different ways to stream Amazon Prime Video on your PC. Instead of watching Amazon Prime Video on an internet browser, you can access the video on your Television in a variety of ways.
If you have a smart TV, then it's a lot easier to include a Prime video channel. Smart TVs have a built-in ability to support and display streaming services. So if you are bored and exhausted with the older version of your TV and are planning to shop for a smart TV, always make sure that your smart TV contains a built-in Amazon Prime channel.
If you have an older TV, don't worry. You can use an HDMI cable as a solution. You can watch Prime Video via a streaming device, or just by connecting your phone or tablet to your TV with an HDMI cable.
Where is the Cast icon on Amazon Prime?
First, launch the Amazon Prime Video app. If it has been upgraded to the latest version and recognizes a Cast device on your server, you will see a notification appear to let you know that Casting is now accessible. Now you can start playing your favorite movie or show. However, you need to make sure that you have connected the Chromecast device and the TV is switched on. When the player opens, you will be able to see the Casting icon on the top right side. Click it and then pick the Chromecast system that you are using. This should let you start casting to your Cast-connected TV.